Prostate cancer: Ultrasound 'shows promise'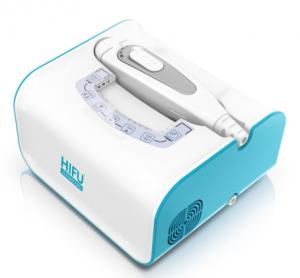 Doctors believe a revolutionary sound wave technique being used to treat prostate cancer could be as effective as surgery or radiotherapy.
A number of small trials in the UK found that High Intensity Focused Ultrasound (HIFU) produces significantly fewer side effects than traditional treatments. Prostate cancer is the most common cancer among men in the UK. Over 44,000 men are diagnosed with prostate cancer every year, with 1 in 8 men getting the disease in their lifetime.
Ultrasound
Treating prostate cancer with focal HIFU involves using high frequency ultrasound waves to destroy cancer cells in the prostate. HIFU is used to treat men with localised prostate cancer that has not spread beyond their prostate.
An ultrasound probe is inserted into the rectum and releases high-frequency sound waves through the wall of the rectum. These sound waves kill cancer cells in the prostate gland by heating them to a high temperature.
The treatment became possible because of more accurate diagnostic techniques which can tell the surgeon where the tumour is located in the prostate. This makes it possible to focus on the tumour alone rather than having to treat the entire prostate.
Results on 625 patients treated with HIFU at 8 UK centres have been presented to the European Association of Urology annual meeting in Munich.
5-year follow up
The study, led by University College London (UCL) shows that 93% of patients who underwent HIFU alone remained cancer-free without any need for surgery or radiotherapy 5 years after treatment.
Also, that only 1-2% of those undergoing this treatment method experienced urine leakage, while impotence rates were at 15% or less. This compares to 10-20% rates of urinary incontinence and 50% rates of erectile dysfunction among men treated with surgery or radiotherapy.
The researchers say these latest findings are more comprehensive than previous studies in the UK which have involved fewer patients, from single centres and subject to shorter follow-up periods.
'Exciting technology'
Tim Dudderidge, a consultant urological surgeon at Southampton General Hospital, who co-authored the study, says in a statement: "The results of this study are impressive and have the potential to transform prostate cancer treatment for many men in the future.
"It is extremely exciting technology and these results show that in men diagnosed early by prostate-specific antigen (PSA) blood testing, this targeted therapy could be as effective as surgery to remove the whole prostate gland or radiotherapy and cause far fewer side effects."
The results of the study should be treated with caution as they have yet to be published in a peer-reviewed journal.
Posted by: Peter Russell, WebMD UK Health News, Posted on: 21st March 2016 http://www.webmd.boots.com/prostate-cancer/news/20160321/prostate-cancer-ultrasound
Medically Reviewed by Dr Sheena Meredith http://www.webmd.boots.com/sheena-meredith